Surya Namaskara B is the most vigorous and longest cycle of traditional sun salutations.  The Ashtanga practice starts with five repetitions of SNA followed by five repetitions of SNB and this method will certainly prepare the body and mind for any asana practice!  You will find with the more repetitions you do, your body and breath will find a rhythm and you will be well on the path to deepening your yoga practice by incorporating this simple routine.
SNB starts with Utkatasana which is a fantastic heat-building posture that engages the whole body.  With the addition of Virabhadrasana I to this sequence, you can see how there is room to further modify traditional sun salutations by adding all sorts of postures into the transitions.  I often use a modified version in my classes eliminating the jump-backs that can be difficult for beginning students.
MODIFY MODIFY MODIFY  YOUR PRACTICE - Don't Shy away!
 It's easy to head into a yoga studio and immediately compare yourself to the rest of the room. If no one else has a block or a cushion, it can feel awkward or even embarrassing to use one.
Personally, I felt uncomfortable using props as I felt I was not good enough. Then I realised that's just my ego getting in the way, and the ego is something you're trying to walk away from anyway. So if you just think - I want to have the best practice possible - it doesn't matter what tools you are using.The next time you feel yourself reaching for a prop or bringing your knee down to rest- don't shy away. That's just where your body is at in this moment. If you are using a block to modify , that's not a sign of weakness, that's actually a sign of power—that you know that your body just needs to be a little bit longer, just needs a little bit of stabilising.
Are you one of those who can't reach your toes - with tight shoulders, tight hips and tension all over your body? Trust me - you don't have to look like a model or a dancer to practice Yoga. I strongly believe in making yoga accessible to everyone!
STABILISE YOUR CORE in CHATURANGA DANDASANA 
You may not have heard of the transverse abdominis muscle, but it's an extremely important muscle that acts as a stabiliser for the entire low back and core muscles.The function of the transversus abdominis is to stabilise the lower back and pelvis BEFORE movement of the arms and/or legs occurs. A weak TVA is often one of the many reasons people experience low back pain. Your transverse abdominis works strongly in poses such as Plank Pose and Chaturanga Dandasana (Four-Limbed Staff Pose) which is part of Sun Salutations.

"Chatur" — meaning "four"
"Anga" — meaning "limb"
"Danda" — meaning "staff"
"Asana" — meaning "pose"
Chaturanga Dandasana is a great strength building pose, plus it activates all the deep stabilising muscles. It takes time to gain enough strength to hold the pose for more than a breath or two. Take it slowly and be careful not to strain your arms, wrists, elbows, or shoulders. Since it's such a challenging pose - Try these simple changes to find the variation that is suitable for you and take time to strengthen your core.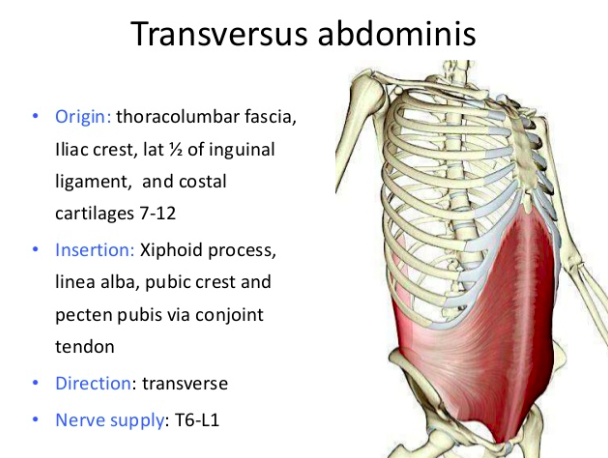 SURYA NAMASKAR B (Modified)
1st ROUND (with PLANK)
standing in TADASANA (Mountain Pose)
INHALE to UTKATASANA (mighty pose, AKA chair pose)
EXHALE to UTTANASANA (Forward Bend)
INHALE to ARDHA UTTANASANA (Half Forward Bend)
EXHALE transition  to PLANK (High Pushup)
INHALE PLANK
EXHALE transition down mat
INHALE to BHUJANGASANA (Cobra)
EXHALE to ADHO MUKHA SVANASANA (Downward Facing Dog)
INHALE to VIRABHADRASANA I (Warrior I) 1x each side
EXHALE to ADHO MUKHA SVANASANA (Downward Facing Dog)
INHALE to ARDHA UTTANASANA
EXHALE to UTTANASANA (Standing forward fold)
INHALE to UTKATASANA (mighty pose, AKA chair pose)
EXHALE to TADASANA (Mountain Pose)
SURYA NAMASKAR B (Modified) 2nd ROUND (with CHATTURANGA)
standing in TADASANA (Mountain Pose)
INHALE to UTKATASANA (mighty pose, AKA chair pose)
EXHALE to UTTANASANA (Forward Bend)
INHALE to ARDHA UTTANASANA (Half Forward Bend)
EXHALE to CHATTURANGA DANDASANA
INHALE to BHUJANGASANA (Cobra)
EXHALE to ADHO MUKHA SVANASANA (Downward Facing Dog)
INHALE to VIRABHADRASANA I (Warrior I) 1x each side
EXHALE to ADHO MUKHA SVANASANA (Downward Facing Dog)
INHALE to ARDHA UTTANASANA
EXHALE to UTTANASANA (Standing forward fold)
INHALE to UTKATASANA (mighty pose, AKA chair pose)
EXHALE to TADASANA (Mountain Pose)
SURYA NAMASKAR B (Modified) 3rd ROUND (with Upward Facing Dog )
standing in TADASANA (Mountain Pose)
INHALE to UTKATASANA (mighty pose, AKA chair pose)
EXHALE to UTTANASANA (Forward Bend)
INHALE to ARDHA UTTANASANA (Half Forward Bend)
EXHALE to CHATTURANGA DANDASANA
INHALE to URDVA MUKHA SVANASANA (Upward Facing Dog)
EXHALE to ADHO MUKHA SVANASANA (Downward Facing Dog)
INHALE to VIRABHADRASANA I (Warrior I) 1x each side
EXHALE to ADHO MUKHA SVANASANA (Downward Facing Dog)
INHALE to ARDHA UTTANASANA
EXHALE to UTTANASANA (Standing forward fold)
INHALE to UTKATASANA (mighty pose, AKA chair pose)
EXHALE to TADASANA (Mountain Pose)