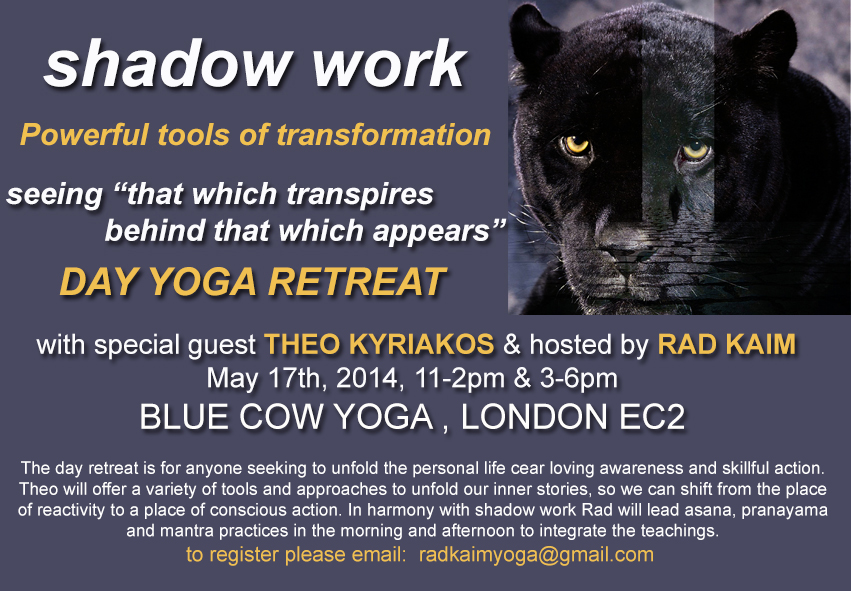 'Engaging our Shadows to reveal our true Self'
DAY YOGA RETREAT
 with special guest THEODORE KYRIAKOS
 hosted by RAD KAIM
May 17th, 2014, 11am-6pm
 BLUE COW YOGA , LONDON EC2
11am - 2pm
 TWIST and SYNC UP
- The Games we Play: (Identifying and stepping out from dysfunctional roles we play )
3 - 6pm
 INTROSPECTIVE FORWARD BENDS
- Cultivating the inner Observer: (Processing difficult feelings and reclaiming our power)
£70 pay via bank transfer or paypal
HSBC account
Sort code 40-05-16
Account number 61597299
REF. YOGA RETREAT
"The journey of re-discovering your heart's true desire is a quest for freedom and happiness. It can be challenging, fun, interesting and rewarding, bringing wisdom and insight to those who chose to follow it. It is a journey through our 'Shadows', (the places in us that lack the light of awareness), in order to discover our Authentic Self, our 'Light'."
The unveiling of our authentic Self is a path of freedom and happiness. Through connecting with our innate wisdom, we learn to see the gift in every challenge.
These workshops are for anyone seeking to unfold their personal life with clear, loving awareness and skillful action. We will learn how to unfold our inner stories so we can shift from a place of reactivity to a place of conscious action. When there is a true connection with Self, then we learn to recognize what hides behind the appearance of things and improve the quality of our relationships with lovers, family members, friends, colleagues, teachers, colleagues etc.
In these experiential workshops, we will explore ways to cultivate our inner observer to better understand re-occurring patterns and roles that we play. We will learn how to process difficult emotions through mindfulness and the power of our creative imagination.
Theodore Kyriakos will offer a variety of tools and approaches drawn from both Integrative Transpersonal Psychotherapy and other paradigms. These tools will be easily accessible for application in your everyday.  In a harmony with shadow workwork work Rad will lead asana, pranayama, mantra and meditation practices in the morning and afternoon to integrate the teachings.
Theodore Kyriakos is an Integrative Transpersonal Psychotherapist, teacher, and supervisor. Trained in London, United Kingdom. He also draws from the Sufi and Shamanic traditions to engage with the shadow in order to reveal wisdom from inner conflict. A native of Greece, Theodore brings passion, warmth, and humor into his offerings.www.lightintobeing.com